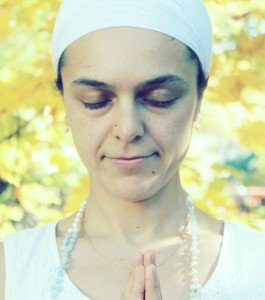 Originally from Turkey, Neslihan found her life's true passion in yoga and art after moving to the Hudson Valley in 2002. Since her very first Kundalini Yoga class, she has been experiencing profound positive changes, in herself and people around her, on a daily basis. She is also an artist, a dancer, and she holds degrees in both metalsmithing and atmospheric sciences. In 2013, her curiosity and fascination led her to the Level 1 Kundalini Teacher Training Course. She has since completed two Level II Kundalini Yoga trainings and workshops in Art and Yoga. Neslihan feels fortunate to share what she has learned with others through chanting, yogic breathing techniques, dynamic movements and meditations. Beginners don't need to be flexible or in great physical shape, as everyone is encouraged to participate only as far as they feel comfortable. Neslihan's sensible approach is suited for all levels of experience.
Neslihan is an artist and a teacher. She teaches Kundalini Yoga privately in the Hudson Valley and at the Living Seed in New Paltz. When not in the yoga studio, you can find her dancing to the rhythms of African dance drums or in the art studio. You can view some of her beautiful creations
here
.
Neslihan is currently teaching
Kundalini Yoga
at Anahata on Tuesday evenings and during special events. Sat Nam.