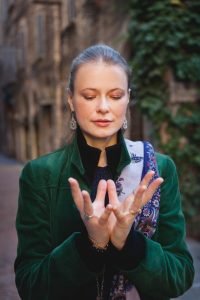 Radiant Lotus Women's Health Qi Gong with Olga Sahej is both a preventative form for any female health issues as well as a healing modality on its own. Change the way you care for your body through just a few techniques of this form. Women facing a range of issues from PMS to difficult diseases including cancer have been able to restore their health to balance by practicing this form.
This form includes: Balancing movement, Shaking, Tapping, Lotus Rising Form, Qi Gong meditation on womb and heart and the Tibetan healing sounds for; clearing any toxicity, breast health, and hormonal balance.
Join us for this special event on Saturday, March 9th from 2-5pm. 
Advanced registration required. $60 by February 1st, $70 by February 23rd, $80 after February 23rd.
About Olga of Blue Lotus QiGong: I was diagnosed with arthritis in January 2008. I was 27 years old at that time and it was devastating for me as a young woman and a pianist to have that disease. Medication that my doctors prescribed made me feel even worse. On the edge of losing my hope of ever feeling energetic, young, powerful and vibrant again, I found something that turned my life around.
Qi Gong came into my life and I've been practicing it intensely since January 2009. Qi Gong is a gentle art of self-healing from China. It is a combination of gentle stretches, breathing, visualization and relaxation exercises. It might seem that this is not enough to conquer any disease, but I found that the more we relax, the more powerful self-healing is.
I practiced Qi Gong 4 -5 times a day one hour each time to help my arthritis and immune system. Three months later in April of 2009 I came to my doctor who told me that my arthritis was in remission. I knew it was because of the special healing art of Qi Gong. I also felt that I was healing on many levels of my life: physical, emotional, mental and spiritual.
Certifications:
• Cloudwalker Qi Gong level I and II
• Radiant Lotus Qi Gong for Women
• Qi Gong for Cleansing (Zang Fu Gong)
• Qi Gong healing school "The Center Place" Year II – IV
• Sat Nam Rasayan Level I Student